iPlayHockey has rebranded our Team of the Month to Group of the Month
---
What defines an iPlayHockey Group of the Month?
Respect
Passion
Commitment
Camaraderie
Sportsmanship/Group Spirit

Contest Rules
The iPlayHockey "Group of the Month" promotion is a free-to-enter contest, designed to recognize groups across Canada who have displayed outstanding commitment to their team or community.
The contest is open only to legal residents of Canada over the age of 13.
To enter the contest, you must submit your entry over Facebook, Twitter or Email. Once you have entered for one month, your entry will be considered for future months.
Upon entering, you are acknowledging that iPlayHockey may share your entry along with any photographs that are submitted on the iPlayhockey.ca website as well as all social media platforms.
The prize for each winner will be a team set (24 units) of iPlayHockey hats and an iPlayHockey coaching board! Cost of shipping will be covered by iPlayHockey.
---
Group of the Month - October 2022
Congratulations to iPlayHockey's Group of the Month for October 2022 - Buck-a-Puck for ALS
We are a team of 13-year-old hockey players from Toronto and we recently lost our hockey coach to ALS. ALS is a terminal disease which takes away a person's ability to talk, walk and eventually breathe. Despite the challenges Coach Steve faced, he continued to coach us – using a text-to-speech app when he lost his voice and working the gate after he lost his ability to skate. Coach Steve was living proof of all the lessons he taught us through hockey: be bold and brave, keep moving, and never stop fighting. To honour our coach and help find a cure, we created a fundraiser called "Buck-a-Puck for ALS." Our goal is to raise $1 Million Dollars for ALS research and care in Canada!
Watch our video: www.youtube.com/watch?v=QM-GqSJVN_k
Buck-a-Puck for ALS is a nation-wide, hockey-themed fundraiser that raises money in a fun, active and competitive way! Participants are required to shoot a hockey puck for every dollar they raise. Prizes will be given to the participants and teams who raise the most money (and shoot the most pucks!). Some prizes include a coaching session with the Toronto Maple Leaf's defence coach, a 3 day canoe trip, a $1000 Rec Room experience, a signed Mitch Marner jersey, a PS5 console, an iPhone 13 and more! 100% of the money raised will be donated to the Stevie Fever for ALS Foundation in partnership with the ALS Society of Canada.
Learn more: www.buckapuckforals.com
Next Shift Canada is a not-for-profit organization working to make hockey accessible to every child possible. Our organization is completely volunteer run and we provide a variety of services focused on at-risk and underprivileged youth. Our organization is comprised of former professional athletes and many serving Canadian Forces Members. We are proud to say that 100% of the funds raised go directly into our programs, supporting youth and making the great game of hockey more accessible to all.
My name is Sylvia Kyriacou. I am one of the founders of the Shinny Sisters. It all started in Jasper while sitting in a hot tub after a day of Christmas crafting about 20 years ago. I met a woman by the name of Evelyn. Discovering that we both had boys the same age playing hockey and how we would love to be on the ice instead of on the sidelines, we decided to recruit our friends to start our own team. Our skill levels vary from first time skaters to very skilled on the ice. We have come a long way in 20 years. I feel blessed to be able to play Shinny with an amazing group of women. Our ages range from late 20's to 70's. One of our goalies played up until the age of 85. We all look forward to hockey season every year and welcoming new players to our hockey family.
The Ottawa Lady 67's is a high-performance female hockey development program. Their mission is to develop young female hockey players so that they may reach their highest potential at all age groups. The program continues to prove its success on the ice and in the classroom. 29 of 55 2021-22 Lady 67's players were named to the Program All Academic Team, a title awarded to members who have a school average of 86 or higher (A/A+, 4.0 GPA) based on the courses they have completed during the 2021-22 season. Additionally, 11 players on last year's team have also committed to play University hockey in the 2022-23 or 2023-24 seasons. The 2022-23 team intends to carry on with the same success.
The Lady 67's Program has been hard at work all summer with their Summer Development Program available for all u15AA, u18AA, and u22AA Lady 67's selected for the 2022-23 season, and Alumni of the Lady 67's Program.
A special shoutout goes out to Jr. Lady 67, #15 Kyla Brennan, and her family for opening their home this summer to 2 Ukrainian Refugees to help them build their new lives in Canada. Andrii and Anastasia are from Kharkiv and had to flee their country because of the war with Russia. This experience has resulted in the Brennan family growing by 2, and in turn, the Lady 67's family growing as well. The Brennan's are fundraising to continue to help Andrii and Anastasiia as these two wonderful people tackle their next hurdle, setting up their home. Click here if you'd like to learn more about supporting their new journey!
The LS7 Sticks in for Charity Road Hockey Tournament is unlike the rest, as players sign-up and register individually (not in teams of 6). Taking place on Saturday, July 9, the event kicks off with the opening ceremonies where sticks will be "pulled," and teams will be made up of players of all different skill sets, abilities and hockey experience. Teams will include professional hockey players, Olympians, adults, and kids (over 10 years old.) We want everyone – all ages, genders, and skill levels – to be able to play competitively!
All proceeds are in support of KidSport Ontario.
The Ottawa HERricanes are a group of Kanata/Stittsville girls who used to play together in different years throughout high school. All of us can say that hockey brings us together and it always feels like nothing's changed every time we see each other on the ice!
Setting up this summer team was a great way to get us all back in touch. Road to the playoffs!
The 6/7 class at Valmont Academy in King's Point, Newfoundland planned and hosted a Winter Classic to raise money to be donated to the town of King's Point to help pay for a covering to help shelter our outdoor community rink from the weather. Our rink is cleared and cared for by members of the community, including the fire hall, and is well taken care of throughout the winter. Many students play hockey, figure skate, or just enjoy a casual skate, and the rink is often used during physical education classes at Valmont Academy for skating or curling.
What started out as a very small plan thought up by the 13 grade 6/7s and proposed to town council quickly played out as a large outdoor community event, including food and a bonfire. All of our items were donated by community members, and the students played a large role in making the food, as well as organising 2 hockey games, one for youth and another for adults.
We are proud to say that we raised just over $1,500.00 in donations to go toward the rink!
Easton Harris is a huge sledge hockey fan and has an awesome and supportive team! Last September, Easton was diagnosed with severe and rare Aplastic Anemia, a bone marrow failure that requires a bone marrow transplant to fix. Not able to continue to play, his sledge hockey team has been amazing by reaching out and making sure he has their support and love. Easton's had the support of so many, including his friend, Canadian Paralympian Tyrone Henry made him smile big time when he surprised Easton with a visit during some rented the ice. Tyrone brought him a signed Team Canada (sledge hockey) jersey!
Easton talks about his team all the time and can't wait to get back on the ice. Next time he sees them he'll have iPlayHockey hats to share. Easton has been a rockstar through his treatments and you too can join his team! He's looking for 75 blood donations and more people to sign up to become stem cell donors that may help save lives. He started "Easton's Hockey Fight for Life" to raise awareness of the importance of blood donation.
Chris Howie started the Newmarket Lions Park Community Rink eight winters ago to give back to his community and to provide a place for children of all backgrounds to have access to a great rink. Chris runs the rink by age group so that young children can skate with their friends and others their age without feeling intimidated by older kids or adults flying around taking hard shots.
The rink is run by volunteers and everyone pitches in to help maintain the rink and shovel it after use. Chris, who didn't have access to hockey growing up as his family was unable to afford it, uses the rink as a Community platform to raise donations for Newmarket Food Pantry and for Belinda's Place Women's Shelter.
Thanks to the hard work from Chris and the team to keep this beloved spot a part of their community!
When the TomCats Women's Hockey kicked off the 2021-2022 season, there were smiles as far as the eye could see. In addition to the Rockstar TomCats, fifteen members from the recent TomCats "Learn to Play" program joined on the ice. The interest in women's hockey and learning the game increases every year. The TomCats try their best to accommodate as many players as they can but still have players on the waitlist. Shoutout to the team of incredible volunteer coaches and assistant coaches. They ran a great practice with skills and drills, that really kicked our off season butts. Great to be back at it!
In three of the past four years (only missing one year due to COVID), the Richmond Fire Hockey Club from Richmond, British Columbia has stepped up to play hockey all day to raise funds in support of awareness and education for mental health for first responders. The tournament is organized by Surrey Fire Fighters Association and participants include a number of fire departments located in Vancouver and the surrounding areas. Proud of these guys!
The U15 Rideau St. Lawrence Kings AA hockey team is ready for a fast-paced season! Under the leadership of a great coaching staff, the boys have already shown they are prepared to work hard and they are dedicated to their individual and team development. They will work together to support one another and do the best and be the best both on and off the ice.
The 2019-20 Goulbourn Atom C Rockets is an awesome group of girls and a great team.
They have adopted the three R's as a code for their team:
Respect - treat everyone - teammates, opponents, coaches, officials, parents - with respect
Relentless - work hard, never give up
Rock on - have fun, enjoy your teammates, build friendships, that's why we are here
They have had success on and off the ice and have had a lot of fun along the way!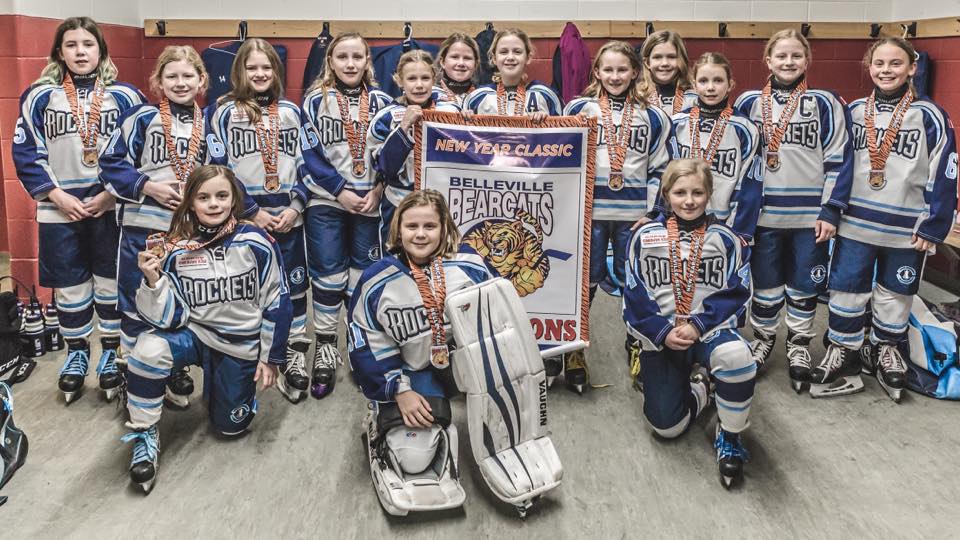 The "FOG" hockey group, or "Fun Old Guys" was created a few years ago - a bunch of dads had just finished a learn-to-play hockey program that was ending for the summer and wanted to keep the skates going. They knew soon enough that they would be pylons in any rec. league, and really liked the group they were with so Keith Higgins called and booked eight ice times at the rink, found some goalies and the rest is history. They have been running every Sunday night year round.
At the time, most of them that played that first summer were very new to hockey, it looked more like adult TimBits, but now the group has developed with about half playing a second night in leagues and a real good mix of players, There are a few that know the game quite well and have played for years that come out to help and give advice.
It's hard to keep up to your kids and go out and try a new sport at an older age, so this group was made to learn the game and get some exercise to stay fresh as the group gets older. These guys show great perseverance and exemplify the true meaning of friendship and family values.
The picture below is their 3rd annual kids vs. parents holiday game!


Congratulations to iPlayHockey's Team of the Month for December 2019 - the Jr. Saginaw Spirit from the Michigan Girls Hockey League!
These girls come from all over Mid-Michigan.
The girls emphasize the true meaning of a team, and are always working hard to keep getting better. They never forget to have fun and enjoy the moment along the way!
The Cornwall Typhoons Bantam House Red is a bunch of girls who worked really hard at their home tournament. In the semi-finals they went into overtime to win 1-0, and in the finals they played to a 2-0 win!
They worked together in practices to be ready for this, as a team and as a family.
They got a coach to wear a special suit if they made it to the end, as you can see in the picture below!
These girls always have fun on the ice together, the way hockey is meant to be!
The Kanata Rangers Midget C participated in the RBC Run for Kids in Ottawa and raised over $1,500 for the cause and will be participating in the Kanata Food Bank "Unload the Bus" event where they unload buses filled with food bank items, which is a fun but arduous task!
They have an amazing team spirit, incredible positivity and are constantly supporting and encouraging each other to work harder with huge smiles on their faces!
The Cornwall Typhoons Midget B are 10 skaters and 2 goalies.
A dynamic bunch of girls that enjoy the sport. They set high goals for the season but they put in the hard work to achieve these goals. Cornwall may be a community with under 50,000 residents but we produce some of the best hockey players around. It all starts with communication and team work!
The Glengarry Highlanders were the true definition of "teamwork".
A few of the girls were new to hockey, but that didn't stop them!
They placed 2nd during seasonal games, 2nd in the playoffs, and 2nd in the finals, and are proud of how they played every step of the way.
These girls and coaches sure made Glengarry proud this year!
The Lac La Biche Clippers had a late start to their season as they originally didn't have coaches in place, so three weeks in some great people stepped up and volunteered as coaches. All of them got their certifications but had never coached hockey before. They just couldn't let these kids miss out on the season.
So starting behind and taking some time to gel as a team was hard. So for some team building they decided to collect donations through all of their December home games for the Out of the Elements men's and women's shelter. They collected items like socks, gloves, toques, toiletries, etc.
The team played through the season and finished the regular season in the top four. Which means they made playoffs, with many close games and making the final round they set up to play the team that remained undefeated the entire season.
They ended up defeating this team in two very close games to win the league banner. So what started out rough ended in an amazing season finish. This group of boys played with their heart and soul this year, learning what it means to be a team player and to play as a team. They developed so much and it proves perseverance can help you reach amazing goals.
They couldn't have done it without their coaches and their hard work and support. For some end of season celebrations they got to play at Rogers Place on Edmonton Oilers ice!
This Sarnia Sting major novice team had lots of bonding over the season and playing on National Hockey League (NHL) ice was a huge highlight.
They worked so hard all year long to get better each and every game and practice. They stuck by each other's sides and ended their season with a huge win.
The parents and coaches loved how the boys came together as a TEAM!
The Valley Elite AAA 2011 team went a staggering 16-0-2 in the month of May alone, winning gold at the Ottawa Senators AAA Spring Tournament, the Ottawa 67's AAA Spring Tournament, and the Montreal Meltdown AAA Spring Tournament.
They are a fantastic example of how hard work and dedication pays off, as they are seemingly unstoppable.
What an incredible run!
The Smooth Grooves Ladies Hockey Team are a team playing out of Richmond, British Columbia. Their skill levels vary from newbies to seasoned veterans.
They are the best bunch of ladies you could ever find, more like a family then just friends playing hockey.
The picture below is from their 2018 season where they were league champions, but unfortunately they were unable to take home their fourth championship this year. Regardless, they had a great year and tons of fun.
Smooth Groves would not be around if it was not for their amazing team manager Kim "the cupcake" Mackie!
The Elliot Lakes Toppers are a very encouraging beginner team who never gave up this year. Their support for each other is amazing. They played every weekend in and out of town while learning the basics this year.
Their arena had closed recently due to snow issues, so a town close by offered to have Elliot Lake there, and finish up the last couple games before the big tournament this year.
They pulled out their first win in the very last game of the year, showing that they never give up.
All of the parents and coaches are super proud of the team!
The Cowichan Secondary Ice Hockey Thunderbirds and a group of players from across central Vancouver Island working hard to draw new female athletes to the game by building a high school league for them to play in!
The highlight of their season so far was being able to compete in WickFest 2019, and share their love of the game with 800 other young female players!
They wish to extend a thank you toHailey Wickenheiser for making it happen, and BC Hockey for helping to get them there!
The Belle River Canadians Atom Major AA were chosen as one of the teams to host the OHF's this year for their age division and the boys have been busy along with parents planning for this event.
They have gone to town council meetings, helped with fundraising, along with staying focused on their current hockey practices and games. They are a great group of young boys who have bonded over this very unique experiencing they get to be a part of this year.
The Sun County Panthers Atom AAA Majors never give up! The season thus far hasn't had an abundance of on ice celebrations, nail biting games or bringing home the W's but the boys are learning. They are learning that hockey is more then just what's shown on the scoreboard - it's about friendships, caring and standing by one another while working hard and staying positive.
They show up each day smiling, focused and learning life lessons that will help carry them forward in years to come. Truly a great group of boys!
You never lose. You either win or you learn.
The Huron Bruce Blizzards are off to a great start! This is the first year that Lucknow and Ripley Minor Hockey have joined together, starting Huron Bruce Blizzard Minor Hockey. This is the first year these guys have played together starting with a 9-1-2 record and a B-side tournament win!
Awesome job, guys!
The Glengarry Highlanders Midget A team is made up of young ladies with a variety of talents that make this team what it is. They are hard working and dedicated to one another and give all they have to be successful on and off the ice.
The Highlanders are all in, all game, all season. Good luck this year, girls!
The Smith's Falls Atom A cubs have worked hard to get where they are today.
After a successful year last year playing B, they have moved to the A-level with their team of major players.
They have combined their team this year with new players from out of town. They are so proud of how quickly these young girls have come together to be quick friends and working well together on the ice. They would like to welcome back the best coach around and we wish these girls a successful year ahead and to remember to have fun!
This Cornwall Typhoons team has a feel-good story - this second-tier Atom team almost didn't exist. It was a last minute creation. The Cornwall Girls Hockey Association did not offer a second tier at this level, but there were so many passionate and skilled players trying out, they took a chance and formed a second competitive team. The goal was development and the success has been a by-product. This move turned out brilliant, as the tier two team brought home the following accolades:

Atom C Provincial Champions
ODWHA, Atom C Champions
GOLD, Oshawa Atom Tournament
GOLD, Nepean Tournament
SILVER, Cornwall Tournament
SILVER, Gloucester Tournament
BRONZE, Jay Peak Tournament

13 of the 17 players from last year will suit-up together again this season!
The Shelburne Wolves showed what the true spirit of a team is this past season. Even though they finished dead last in the standings with a 2-11-7 record, they battled hard right to the end of the game, and didn't end up with the record they deserved.
They went into the playoffs fast and hard and ended up finishing 4th, well above their regular season placement.
At home and facing elimination, the coaches and parents told them how proud they were of them no matter the outcome but it was their dedication and teamwork that got them there.
They won that game forcing game five back in Coldwater. It was a tight game until the home team went up 3-1. The Wolves roared back to go ahead 4-3 which they tied and forced overtime and were able to finish the game the way those kids were determined to and that was with a win.
Valley Elite's novice spring hockey team was absolutely DOMINANT this past season, playing to a 15-1-3 record and displaying incredible sportsmanship and respect for their opponents along the way.
Along with their fantastic record, they also managed to win two tournaments and finish as the runner-up in another!
The Saskatoon Junior Blues are a AAA team filled with hard-working and respectful young boys. It's their third season playing together and competing in the Gold Division. They recently battled hard and were able to WIN the Top Guns Tournament in Canmore, Alberta!
The Brockville Girls Hockey Association's Atom House Angels - with five girls brand new to hockey, every single girl reached new accomplishments every practice and every game. Giving their all, never giving up, not letting anything stand in their way, They encourage each other, they comfort each other. These girls are the true meaning of a team. They wear their hearts on their sleeve. They play for the name on the front of the jersey, not the name on the back. At such a young age, they all show an amazing level of maturity and their parents should be very proud.
As of now, the North Halton Twisters Novice A are 55-0-1. They have won all five tournaments they have entered and are league champions. They have scored 411 goals and given up 45 this year.
Pretty incredible. Well done, girls!
This awesome team are good friends, on and off the ice. Whether they are playing in a game, a tournament or involved in a bottle drive team fundraiser, these girls are always working hard, demonstrating their love for the game while respecting each other and their opponents. Their perseverance and dedication earned them finalists' medals at the 2017 Kingston Girls Hockey Association (KGHA) Tournament, as well as finishing first overall in their division as 2017-18 Regular Season Champions (ODWHA "West Piper" Bantam House League Division). A successful season indeed! Go Rockets!
Determination and fun - the Spitfire way. Their goal is to improve each and every game, while remembering this is a game about fun and lifelong friendships. Coach Scott, in his first year of coaching, has enhanced skills through development, hard work, and fair play. It's been a successful season with an amazing group of kids, parents, and coaches! Go Spits
The West Lorne Comets Bantam Rep team is a great example of what small town hockey is all about. Comprised of ten skaters plus two call-ups from the local peewee team, this team is very competitive against much larger centers they face game in and game out in league play. The team works hard every game and leaves everything on the ice. They are a great group of young adults who are very coachable and eager to improve and develop!
Teamwork, respect, battling hard and having fun.
That is the focus of the Lucknow Sepoys each and every time they hit the ice. Some of them have been playing together every year or second year since Tyke. Over the years the teamwork and friendships have made them better players, teammates, coaches, and more importantly, good friends.
The Ottawa Herricanes are a group of ladies who have been together for almost 10 years. Most of them started their hockey career as adults and their love of the game has kept them together over the years. Their age range is 24-52 years old and they have great spirit and joy!